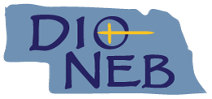 Diocese of Nebraska
About Diocese of Nebraska
We are an organization of 53 congregations located all over Nebraska, where diverse communities of people gather to encourage and support each other in worshipping Jesus, nurture each other through good times and bad, and reach out in service to the larger world. We are part of the larger Episcopal Church, which is in turn a member of the world-wide Anglican Communion. 
Follow Diocese of Nebraska
Featured Stories From Around the Diocese of Nebraska
The Diocese of Nebraska responded to the central US flooding by providing gift cards to approximately 500 and expanding its foodbank operations from once a quarter to once a month, impacting about 200 households.
More